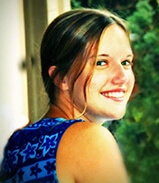 "Victorious Heart"
Nikki Ann Mayer was gentle, kind, sensitive, smart, and caring. Not only was she a deep thinker, but also a patient listener.  This resulted in offering encouragement and help to many, as a faithful and loyal friend. The warmth of her smile and laugh reflected the depth and beauty that was inside of her.   Not surprisingly, she is missed for her beautiful smile, kind eyes, warm heart, and thoughtful words.
Nikki was seventeen-years-old and a senior at Irondale High School. One of the many activities she was involved in was being the secretary for the school's National Honor Society. Nikki was pursuing attendance at North Central University where she wanted to become a social worker to help meet the needs of others.
She loved working at ACR Homes caring for special needs women. Impacting her world with God's love was the most important thing to Nikki.  She also enjoyed singing in the choir at school as well as a smaller singing group. In her free time, Nikki was active in community service, her church youth group, and was also an active supporter of local Christian music. At home, you would find Nikki deeply engaged in a book, or listening to music. Nikki appreciated how words communicated thoughts and emotions. She would often be found reflecting the power of words from her favorite poems, songs, and scripture. Her journal was full of her favorites.
To read more go to the blog: I Can See for Miles
Read the blog: Beautiful, Scandalous Night about a song that changed her life.
What Now?
An article from the Irondale Eye student newspaper, dated January 23rd, 2004

I know that Nikki Mayer would want her sudden death to have a lasting impact on those at Irondale. She would want us to hug more, smile more, and care more. Accordingly, Nikki would want us to say "Hi" to someone we never talked to before, to live to our fullest potential, to care about those hardest to love.
She would wish for the cliques to go away and people to walk down the hall and talk to people they don't know. For this reason, I believe she would want us to quit being critical of those around us and the things they wear or whom they hang around with or what school activity they are involved in. She would wish for us to be a community.
So, what do we do now? I challenge you to talk to someone you do not know, sit with someone in lunch you would have never sat with before, help someone who might need your help. Let's make a difference for Nikki.
– Anonymous Submission
A life is not measured by the time, to the end of its days from the start
Instead a life can be measured by the depth and breadth of its heart;
and broad and deep was your life, now winged, taking flight.
A life that's lived well and lived full knows not of the measure of time.
Long or short a life will inspire by its rhythm and soul and its rhyme.
And your life struck a chord of a song that sings of a hope shining bright.
There is hope, there is hope in a life lived so right full of joy, full of song;
full of bright shining light; there is hope in the darkest of nights;
when you're touched by a life lived so right.
For once we've seen, once we've heard, we can never forget for all time,
God's love shining true in the eyes of one so bright and so kind.
And your life was a voice for the light that shines through the night.
There is hope, there is hope in a life lived so right full of joy, full of song;
full of bright shining light; there is hope in the darkest of nights;
we've been touched by a life lived so right.
A Pictures Worth 1,000 Words
See pictures, paintings and other artwork of Nikki's from times throughout her life. 
PERSPECTIVES OF
FAITH

 & 

HOPE
Gain an eternal perspective for your journey as you read Debbie's Monthly Perspectives and Blog.
She shares from her heart insights and lessons learned along the way.
It is amazing to see how one individual life can impart hope into another's story, and possibly many, by simply taking time to listen, observe, and act on what someone else may be experiencing.
God will never let you down, He is a friend like no other.
My spirit can daily be cleansed and restored by the fountain of life. Jesus provided this from the wounds He endured on that Beautiful Scandalous Night. This truth flows freely for all who will come to His shore of love, and drink.