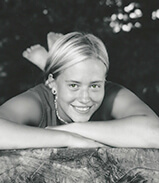 KRISTA JOY MAYER
"Follower of Christ"
Krista Joy Mayer was nineteen-years-old and a graduate from St. Anthony High School. She worked as a child caregiver and was a loving daughter, sister, and friend. Krista was artistic, athletic, and funny. She played high school basketball as well as sang and played bass alongside her brother in a local band, Pressing On. Besides writing songs and poetry, she enjoyed photography and painting.
Krista was planning to attend art school later that year. She had a unique way of making others feel important and special, and because of that had friends of all ages. Krista had a desire to know God deeper and to make His love known. Because Krista was compassionate, humorous, understanding, and creative, all who knew her, describe her with a smile and a joy to be around.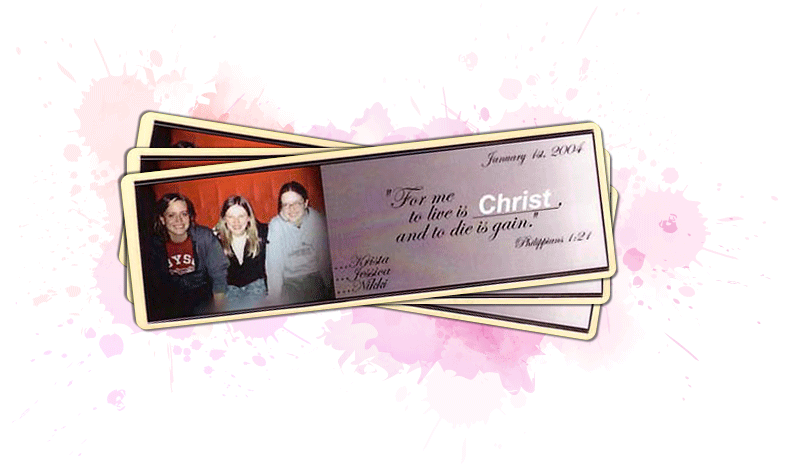 This bookmark was handed out at the girls funeral service at Redeeming Love Church, to serve as something to remember them in the weeks, months and years ahead. Hopefully, when looking at it, these questions will come to mind.
-What have I placed in that blank?
-What is my life being spent on?
-Why and What am I doing?
God has a destiny for each of us. We will only fulfill that destiny as we live our lives in and for Him. If we live like that here, when our time comes – TO DIE WILL BE GAIN. It will be a natural step to walk into God's presence and enjoy Him forever! I believe God is challenging each one of us to confront that blank today.
The following is an excerpt taken from Pastor Ken Freeman who spoke at the funeral on January 7th, 2004
All the things shared today about the girls would only be words unless they held within them the promise of hope and eternal life. When the news of the accident was received, the family came together at Joe & Debbie's. We began to look through pictures, scrapbooks, and sharing stories. One of the things found was a senior art project of Krista's. It was an assignment to explain herself through words & pictures. There was a witness in our spirits about the truth she expressed in her school project. The first page reads as follows…
Krista's Art Journal
Here is a book about me. I wish in words I could explain to you my true identity, but the definition of identity is, " the condition of being one's self." The only way to achieve full understanding would be to be me. Maybe I can open up a little window, and let you peek inside.
I was born and raised in the city. South Minneapolis and I loved it! Every warm memory in my heart traces back to a little place I like to call home. 3233 22nd Ave So. Mpls, MN 55407 (my old address.) This is the place where friends and family laid the foundation that formed me into the person I am today. At the age of 2, I knelt down next to my brother and with his help, made the most important and influential decision of my life. I asked Jesus Christ to come into my heart. Although at the time I didn't fully understand the impact of my humble little prayer, it has proven to be the most fruitful act I have ever made.
Like all kids my age, I have my share of talents, many interests, and hopes, and dreams. But before I share them with you, it is important you understand, "For me to live is Christ, to die is gain" (Philippians 1:21). Take away all material possessions, all my talents, and earthly desires, and I will be the same because of the life I have in Christ! So now with that said, here's a little about me…Krista Joy Mayer.
What does it mean, "To Live for Christ, to die is gain?"
If we take CHRIST out of the sentence and put anything else in its place, it makes no sense. MY ABILITIES, MY TALENTS, MY DREAMS, MY PLANS, MY MONEY… And then say… "death is gain"… the equation is off! Because all those things will cease!
I challenge each one of you to confront the blank in the Scripture. Nothing else will satisfy until CHRIST takes the place on the bookmark of our hearts. It is then we will have a peace and joy that this life cannot give, and death will never be able to take away. Soon – we will all come to the end of life's journey. What we place in that blank matters for eternity. It may determine if you will ever see your loved ones again, or worse, the face of Jesus.
Here is the song Krista and Debbie sang at Krista's Baccalaureate service when she graduated from St. Anthony High School, which addresses that very thought.
A Pictures Worth 1,000 Words
See pictures, painting and other artwork of Krista's from times throughout her life.
PERSPECTIVES OF
FAITH

&

HOPE
Gain an eternal perspective for your journey as you read Debbie's Monthly Perspectives and Blog.
She shares from her heart insights and lessons learned along the way.
On the night my daughters went to heaven, we pulled out pictures, scrapbooks, and school projects, reliving stories with and about the girls. God began to give us what I call "tokens from Heaven", which,
Processing our thoughts and feelings can bring our lives into clear view.it's in "seeking first the kingdom of God and his righteousness, that all these things will be given as well" (Matthew 6:33), that our life and purpose will come INTO CLEAR VIEW.
a family's story of triumph Fall '04 issue of "Deeper" | A publication from Emmanual Christian Center in Spring Lake Park, MN written by Angie Halama It had been just three months since Debbie