After the Crash
Grieving With Hope in Light of Eternity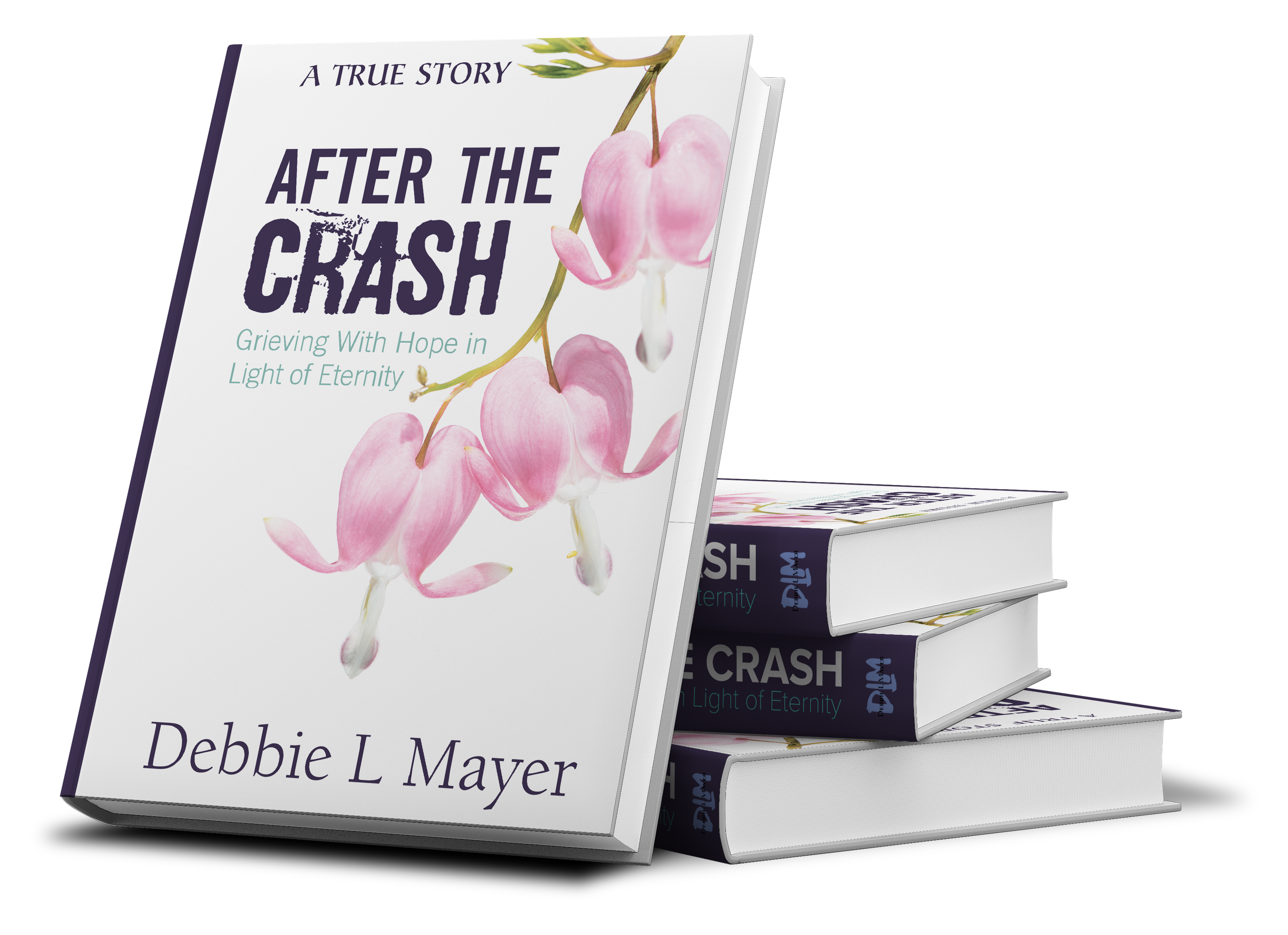 How do you go on when three of your children are instantly taken from this world? Do you question the goodness of God? Does your loss hurl you into a life of isolation and loneliness?
In After the Crash, Debbie Mayer will answer those questions as she describes the events and emotions surrounding the tragedy that completely changed her world when her three daughters were killed in a car accident just two days before her son's wedding they were to be bridesmaids in.
She will take you on a journey from the temporal realm into the eternal, enabling you to view life and circumstances from an eternal perspective. The raw and revealing accounts of Debbie's story will present you with a mirror to your own heart that will invite you to embrace your own story with hope and a relationship with the God who knows and loves you intimately.
Debbie found that there is no safer place to be than in the presence of a God that not only knows and loves us, but offers life eternal – beginning right here on earth. You will see that it is possible to live beyond yourself, your circumstances, and your feelings and be delighted to discover that there is no sorrow, loss, or disappointment that can separate you from the wonderful love of God.
Sign up and always get notified with the latest news!
NUGGETS OF
FAITH

&

HOPE
Selections of poetry, journal entries and lyrics written by and for Krista, Nikki and Jessica Mayer, along with lessons Debbie has learned along the way.
Yes, Jesus loves me—the Bible tells me so! You would often hear Jessica singing this throughout her day in her early years. She had an assurance of both her Daddy's and her Savior's love. As
When a small child falls down, all they really need is to be picked up by Mommy or Daddy and soon everything is okay. Sometimes a smile or an affirming word of assurance, while sitting
While observing ground zero on a mission's trip to New York City with my son Joey and two older daughters Krista and Nikki, along with our Church Youth Group, I was profoundly touched when gazing
I am the resurrection and the life. He who believes in me will live, even though he dies; and whoever lives and believes in me will never die."
"Blessed are the pure in heart, for they shall see God."
"Do nothing out of selfish ambition or vain conceit, but in humility consider others better than yourselves.
Each of you should look not only to your own interests, but also to the interests of others.
Your attitude should be the same as that of Christ Jesus."