After the Crash
Grieving with Hope in Light of Eternity
How do you go on when three of your children are instantly taken from this world? Do you question the goodness of God? Does your loss hurl you into a life of isolation and loneliness? In After the Crash, Debbie Mayer answers those questions. She describes the events and emotions surrounding the tragedy that completely changed her world when her three daughters were killed in a car accident just two days before her son's wedding, which they were to be bridesmaids in. In these pages, you'll discover: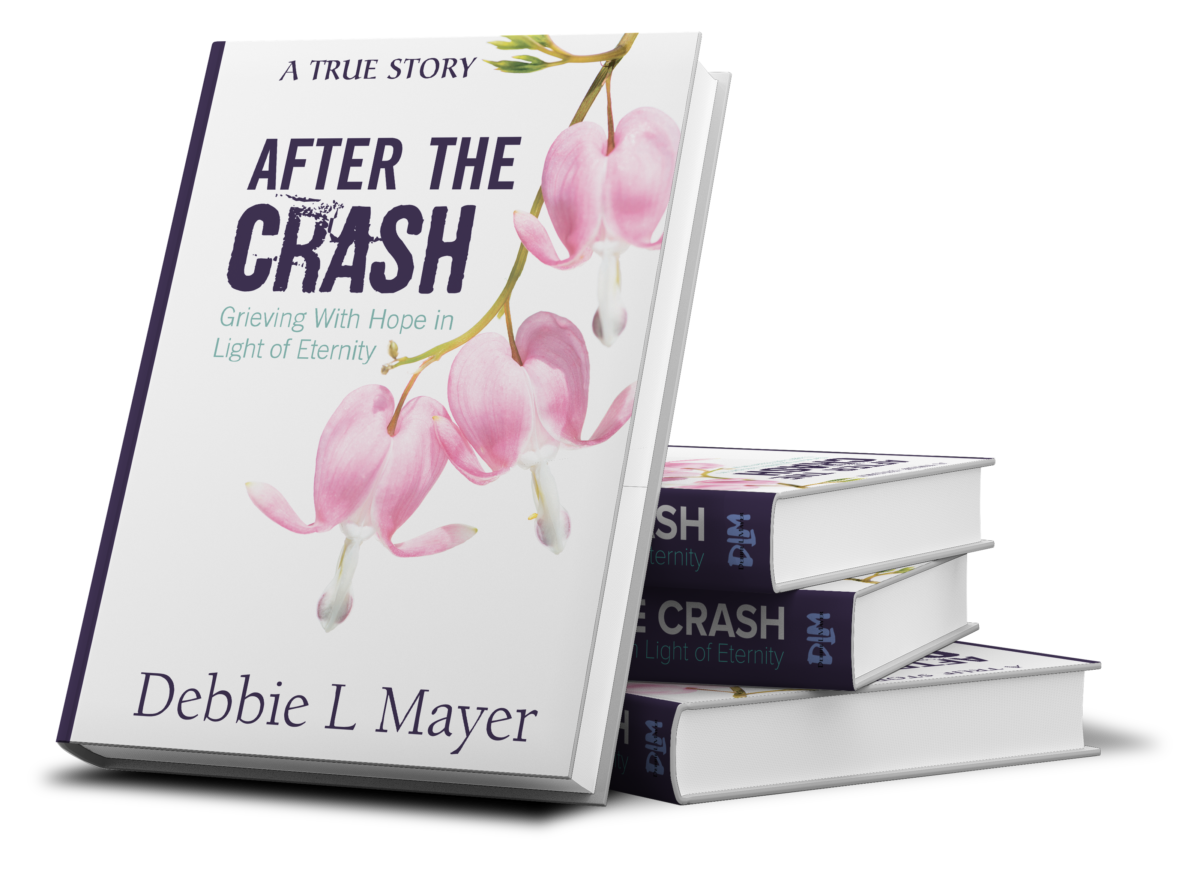 How to view life and circumstances from an eternal perspective
How understanding God is limited, but trusting God is limitless
Why there is no safer place to be than in God's presence
How to embrace life and your true identity after loss
How your house can still stand through the storm
Debbie's story will offer you a mirror to your own heart, and invite you to embrace your story and relationship with the God who knows and loves you intimately. If you have experienced loss or brokenness in mind, body, heart, or spirit, this book is for you.
Sign up and always get notified with the latest news!
Gain an eternal perspective for your journey as you read Debbie's Monthly Perspectives and Blog.
She shares from her heart insights and lessons learned along the way.
On the night my daughters went to heaven, we pulled out pictures, scrapbooks, and school projects, reliving stories with and about the girls. God began to give us what I call "tokens from Heaven" to
It is amazing to see how one individual life can impart hope into another's story, and possibly many, by simply taking time to listen, observe, and act on what someone else may be experiencing.
Our Heavenly Father asks us, His children,  to trust Him with our lives as well. Pure trust. A belief, security, a sense of peace and confidence that He is in control and holds our future in His hands.
I am the resurrection and the life. He who believes in me will live, even though he dies; and whoever lives and believes in me will never die."
"Blessed are the pure in heart, for they shall see God."
"Do nothing out of selfish ambition or vain conceit, but in humility consider others better than yourselves.
Each of you should look not only to your own interests, but also to the interests of others.
Your attitude should be the same as that of Christ Jesus."