Are you walking through the valley of the shadow of a loss or heartache? Do you believe the Voice of Truth, or does the voice of fear torment you? Are you wondering how long you will have to endure this pain?
Our lives are 10% of what happens to us and 90% of how we respond. Emotional and spiritual healing only result as we decide to think differently, allowing TRUTH to reside in our heart and mind.
But what is TRUTH? Jesus said, "I am the Way, the TRUTH, and the Life; no one comes to the Father unless through me" (John 14:6) When standing before Pilate, Jesus clearly spoke of TRUTH as ABSOLUTE when He said, "I have come into the world, to bear witness to the TRUTH; everyone who is of the TRUTH listens to my voice" (John 18:37).
Pilate responded to Jesus saying, (not asking), "What is Truth?" Instead of waiting for an answer, even though he knew Jesus was innocent, because of the crowds and the circumstances, was misled by the false appearances of things, handing Jesus over to the Jews to be crucified. Pilate rejected absolute TRUTH and as a result, was tormented by his decision.
How many times are we, even as God's children, tormented by our decision to believe lies rather the TRUTH. Scripture tells us, "The Lord is near to all who call on Him in TRUTH" (Ps.145:18). Jesus is the VOICE OF TRUTH, as Casting Crowns sings:
But the voice of TRUTH tells me a different story
The voice of TRUTH says, "Do not be afraid!"
The voice of TRUTH says, "This is for My glory"
Out of all the voices calling out to me
I will choose to listen and believe the voice of TRUTH
When we listen to Jesus, we hear the TRUTH. He IS the voice of TRUTH and tells us that when we know the TRUTH, we shall be free. (John 8:32).
At one point in my grief, I was stuck in the place of barren and unfruitful, allowing those words to define me. Keep in mind that whenever God is about to do a new thing, the devil will bring up an old item. The old lie I fell for was, I'm a big loser! However, this time, an exclamation mark came at the end, threatening me to believe the rest of my life would be barren and unfruitful. Even God's Word seemed written in a foreign language. Devotional books felt like deciphering a secret code. I felt as though I had spiritual amnesia—and had fallen into a strange trance. Something was wrong. Not all the time, but a lot of the time. Enough of the time to stifle my quality of life. I was gradually losing hope.
One day, while focusing on my circumstances AND believing the lies that in my old age I would be barren and that I was a loser with a capital "L," I desperately cried out to God.
I can go through just about anything if I know the TRUTH of God's Word about it. Listening to the wrong voices caused torment and fear.
Oh, please God, speak the TRUTH.
Before I went to bed, I picked up my Bible and turned to Isaiah 46. Verses 3–4 said "Listen … you whom I have upheld since your birth and have carried since you were born. Even to your old age and gray hairs, I am he, I am he who will sustain you. I have made you, and I will carry you; I will sustain you, and I will rescue you." Jesus spoke the TRUTH to me of His unending love, saying, I loved you then, I love you now and forever will I carry you until the end. Even in my old age!
While listening to The Silver Chair on CD, part of The Chronicles of Narnia books by C. S. Lewis, God clarified what had happened in my own life. In the allegorical story, Aslan (representing God) gave Jill (one of the characters whom he loved) signs—promises and instructions she was supposed to remember and obey to guide her on her journey. Aslan warned her that the air in his country (representing time in the TRUTH of his Presence) was clear, but as soon as she descended the mountain (the journey and struggle of life), her thinking could become muddled. He specifically told her, "Pay no attention to appearances. Remember the Signs and believe the Signs. Nothing else matters."
In Scripture, we are also told to walk by faith, not by sight, fixing our eyes on the unseen realities of heaven. But Jill soon forgot the Signs (God's truth) and focused only on her circumstances. She became misled by the false appearances of things around her. As I read, she too appeared to be in a trance. Because of this, she became fearful instead of faith-filled while walking through the valley. Like Jill, I had also forgotten the signs (TRUTHS) God had given me while focusing on my losses instead of His TRUTHS—and entered into a kind of trance.
Verse 7 continues to say the people made idols to pray to, yet the idols could not hear or save them from their distress. Psalm 135:16–18 says, concerning idols: "They have mouths, but cannot speak, eyes, but cannot see. They have ears, but cannot hear, nor is there breath in their mouths. Those who make them will be like them, and so will all who trust in them." Wow. I realized that while focusing on my losses, I had made idols of them. These losses became what I worshiped, and now they were sucking the breath (life) right out of me. I had become stuck in my grief.
Since we are created to worship, whatever has our most significant attention is what we worship. According to God's Word, we will become like what we worship. This revelation woke me from my trance.
But now what?
I remembered a pencil drawing that my daughter Krista sketched on the back of the church bulletin while listening to our Pastor preach on repentance. The message communicated by the image she depicted was so clear in my mind. Repentance is turning away from sin and turning to God. It's having an attitude of openness to God and changing as we align our thoughts with His TRUTH.
Turn to Repent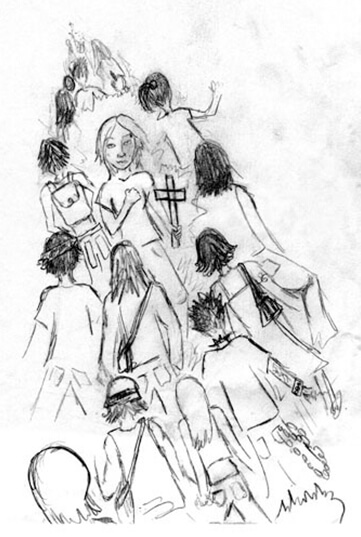 I repented for focusing more on my losses than on God, along with believing lies about Him. I hardly needed help from Satan to think negative thoughts about myself, but he had also spoken negative thoughts and accusations to me about God, causing me to question His character. If we think wrongly about God, we will think mistakenly about ourselves and our situations as well, influencing all we do.
At this point, I realized my vulnerability had opened a door that strengthened a network of lies. These lies accused God's character and essentially said that what Jesus did on the Cross was not enough for me. By identifying these lies, I then reclaimed the ground I'd given the enemy and replaced them with TRUTH.
Continuing to counteract the negativity by speaking God's TRUTH released faith and vitality in my life again. I practiced taking my thoughts captive to Christ and making them obedient to His Word. I demolished the devil's arguments along with my reasoning that was usually against the knowledge of God. What I said outwardly began to conform to God's TRUTH within me. As I did this with greater intention, I began to experience the life of freedom that Jesus referred to in John 14:6. WHAT ABOUT YOU?
"You shall know the TRUTH, and the TRUTH will set you free."
While you're here, take some time to read some of my other blogs. I'd love to hear from you, so please scroll down and leave me a comment.
Remember that you are eternally loved! There was no beginning and there will be no end to God's love for you!