While at the beach, I observed the tranquil beauty of the surrounding trees mirrored in the lake. Above was a canopy of sky and clouds hovering over the peaceful canvas of the lake's surface. It was such a clear reflection of the beauty that surrounded the lake. I then wondered to myself about what my life reflects?
Reflection only happens when light bounces off an object.
Interestingly, the more transparent the water and smoother the surface, the better the reflection. I have observed that when the water in a lake is very still the reflection of the landscape is perfect. However, if there are ripples or waves in the water, the reflection becomes distorted, and even worse, if no light reflects off the surface, there will be no reflection at all.
Sitting there, I contemplated how we too, reflect the mental, emotional, and spiritual landscape of our own lives. Again, I wondered to myself about what my life reflects?
I thought about the ripples of fear, rejection, resentment, and unbelief. And then there are the ripples of self-preservation, independence, and rebellion along with a myriad of other attitudes that will distort the beauty of God's character. Choosing to do things our own way rather than God's can cause an eclipse of faith that creates a shadow preventing any reflection at all.
But, when we honestly open our hearts to God and lay our lives before Him with surrender and vulnerability, the ripples of fear and shame are calmed. In stillness and light, we receive His healing Word and absolute love.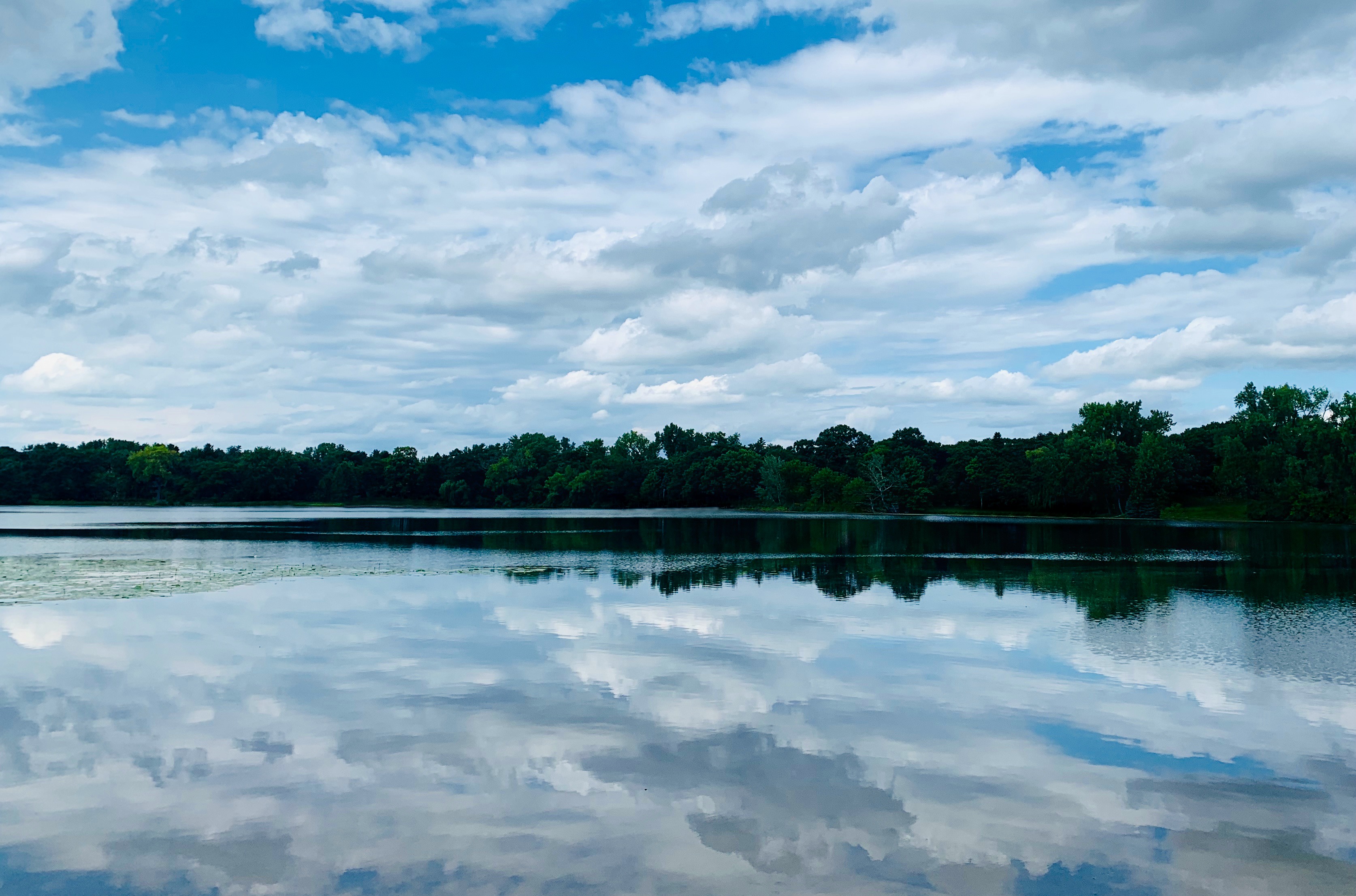 This lake is doing nothing but resting in its purpose for being. Our purpose is to be a reflection of His glorious image. Just as naturally as this lake, the reflection of God's image can also be revealed in our lives. But so often we try to appear like we have no problems and have it all together. We may even have wonderfully deep revelations and the knowledge of a scholar. But if we are not allowing the truth of His Word to change us, these ripples ruffle the water. Then we wonder why our lives are not reflecting God and why is it's so hard to see His goodness?
The truth is that it's our weaknesses and difficulties that open us up to HIS light and healing. This healing is what positions us to display His glory. When we are transparent like this lake before God, HIS LIGHT causes our faces to shine just as the face of this lake shines and reflects the beauty and glory of the sky above it.
In its stillness, the lake is laid open to its surroundings.
It is in a perfect position, as the sun shines on it, to reflect the encircling landscape on its surface. 2 Cor. 3:18 (MSG) translates this to our own lives so perfectly: "With nothing between us and God, our faces shine with the brightness of his face. And so we are transfigured much like the Messiah, our lives gradually becoming brighter and more beautiful as God enters our lives and we become like him".
We too can be mirrors facing the sun as we turn our hearts to God.
When we are still, surrendering, and resting in His presence, God not only uncovers our fear and shame, but heals, changes, and transforms us into His glorious image with the radiance of His beauty. "Those who look to him are radiant; their faces are never covered with shame"(Ps. 34:4-5).
As we open our hearts to embrace Gods ways, we bring Him honor, and our lives paint a beautiful picture of His character and reflect His holy love.
This unmistakably clear picture challenged me to ask the questions:
–What is the image people see reflected on the surface of my life?
-Am I reflecting God's truth and beauty, and love?
-Or are the ripples of my insecurity and pretense distorting the splendor of God's glory?
-How transparent am I with God?
God doesn't just want us to have a revelation of Christ, He wants us to live it so He can display us for His splendor (Isaiah 61:3), and be a reflection of Him. As we settle into a place of stillness and surrender—our lives will amazingly reflect His image. "But we all, with open face beholding as in a glass the glory of the Lord, are changed into the same image from glory to glory, even as by the Spirit of the Lord." (2 Cor. 3:18 KJV).
While you are here, please take a few moments to read some other of my blogs. I'd love to hear from you, so please scroll down and leave a comment in the comment box.
Remember you are eternally loved and there will be no end to God's love for you!