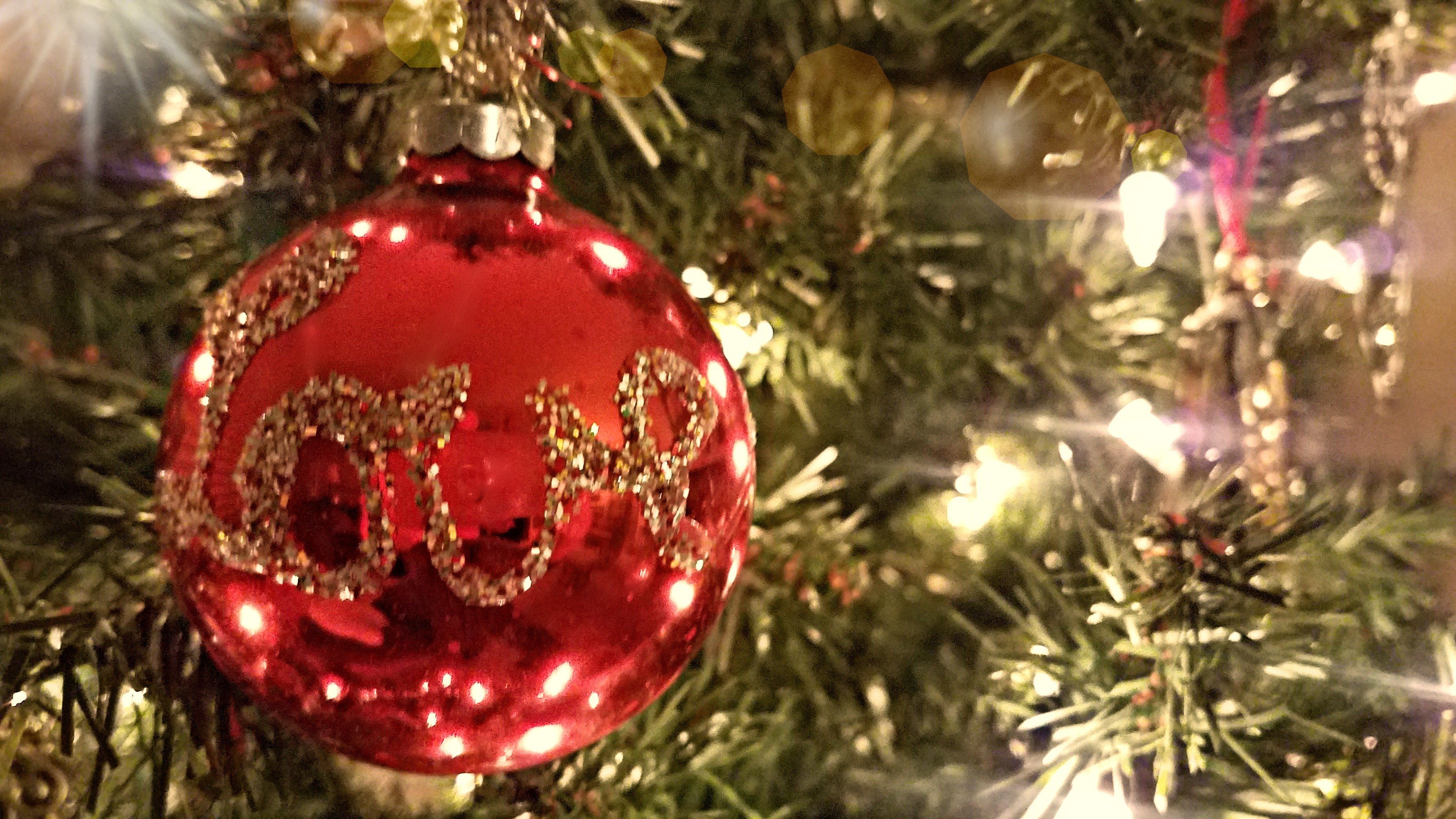 Overwhelmed, I stare at the bare Christmas tree and the boxes on the floor. These boxes contain Christmas tree bulbs that my kids made with the words love, joy, and peace, along with, "what can I give to the king?" Others have the names Joey, Krista, Nikki and Jessica sparkling with the glitter paint they used to decorate them. In one box sits the ornaments I gave to Krista, the other Nikki, and the other—Jessica. It's time to decorate my Christmas tree so after one more journey back in time, coupled with tears and sobs, I decided to put up Krista's dragonflies, Nikki's birds, and Jessica's butterfly ornaments. I hung Joey's toy soldier next to them that he made in first grade. Beside each of these, I strung the ornaments of their childhood pictures.
While hanging the last ornament, the CD player sang out the song I sang with Krista, Jessica and my niece at our last Candle Light Christmas service together. The deep visceral response created by this song reminded me of the intense emotions of joy I had the night we sang it for our church congregation. Following that came a flood of other memories reminding me of how different it is now. These memories activated a shiver of excitement as I remembered how lively it used to be but quickly changed into the anguish of grief as I remembered it was fourteen years ago, and my heart immediately longed for greater healing.
Am I living in the past?
Am I stuck in my grief? Or am I merely treasuring the precious memories of Christmas past with my children? It's so hard to tell when the ache in my heart still throbs with such intense longing for them. Do you have a pain in your heart this Christmas that says, "things just aren't right?" Is there something or someone missing in your life? Are you feeling the sting of a weighty disappointment? Are you lacking in an area of weakness and need? Has your life changed so dramatically that the ache in your heart or mind is only accentuated by the season? Do you need a healing touch from God? Christmas can stir up both happy and sad feelings because we all go through loss. Sickness, death, opposition, weariness or a broken heart reminds us of past experiences and disappointments.
Perhaps our troubles are telling us that we're not so different after all. Maybe others are just like us. Fragile. Broken. In need of hope, longing for the wholeness that redemption promises. Scripture reminds us that ALL creation groans with the Hope of Redemption. (Romans 8). This is a hope that produces patience and joyful expectation.
Jesus brought us this redemption when He paid the price for our sin on the cross. That is why He came to this earth. Now—we wait with eager anticipation for His return for when He comes back to take us with him to rule and reign. So perhaps there is another way of viewing and experiencing these sad and empty feelings? Maybe there is another perspective?
How about Advent Hope?
Advent is a season observed in Christian churches as a time of expectant waiting and preparation for the celebration of the Nativity of Jesus at Christmas as well as the return of Jesus at the second coming. The term is a version of the Latin word meaning "coming." Advent brings an expectation of Hope.
The Biblical definition of hope is the confident expectation of the "coming" of what God has promised. Do you look with expectation for God's promises? The things that hold eternal value? The Bible tells us we will not be disappointed or put to shame when our hope is in God. (Ps. 25:3 & Is. 49:23). The Desire of the Nations. The Light of the World. The Hope of all mankind. Jesus. He is the redemption being revealed in us even now as we live each moment longing for and expecting His "coming." HIS PRESENCE. He longs to heal our fragile hearts and minds. His love can speak to each of us in intimate ways as we look for His coming. His presence.
This healing can happen in big and small ways because God's love is both extravagant and simple.
He is able to untangle every unsound and twisted thought by speaking clearly one word of Truth. His voice is powerful—yet gentle. He is able to calm every fear with one touch of his presence. Stilling us with his peace yet—empowering us with his Joy. His touch can be as simple as the warmth of a child's smile, or as dramatic as the healing touch of a long-awaited prayer. He can bring a smile to our face as we recall a past memory. The floodgates of our hearts can fling wide open as he prompts a kind word from a loved one. He is able to clear our minds as we observe the beauty of a wintery snowfall or cause our spirits to rise within as we waken to the freshness of a new day. He loves to come in these moments.
Whatever our heart-ache or loss, let's change our perspective to "Advent Hope" and look for His coming. We need to look with expectation. He said if we seek Him, we shall find Him. (Matt. 7:7). He will come as our healer, our hope, our expectation, our Emmanuel—God with us!
The fifth verse of the well-loved Christmas carol "O Come, O come Emmanuel" says it well:
"O Come, Thou King of nations, bring an end to all our suffering.
Bid every pain and sorrow cease, and reign now as our Prince of Peace.
Rejoice! Rejoice! Emmanuel shall come again with us someday to dwell."
I'd love to hear from you, so please scroll down and leave me a comment.
Please remember that you are eternally loved. There was no beginning and there will be no end to God's love for you!