The Merriam-Webster definition of dignity is: "The quality or state of being worthy, honored, or esteemed." Every human being is fashioned in the image and likeness of God and has intrinsic worth and value as a person. The human spirit is honored and nurtured when treated with dignity. In fact, it can often change the course of a life.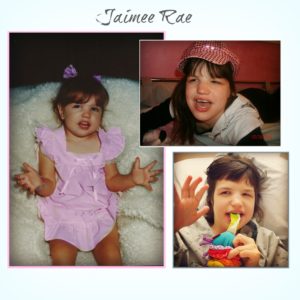 On August twentieth, 1985, Jaimee Rae came into this world. Her older sister Joanna was born on February sixth, 1983 and another year later on March fourteenth came Jenna. Then—almost a year and a half after her, Jaimee was born making it fourteen cousins out of the twenty there would eventually be. What fun there would be for them growing up and playing together!
But a couple months after Jaimee was born, the diagnosis came. Severely handicapped. Jaimee would never function as an independent person. Unable to sit up on her own, feed herself, talk or walk, she would need constant care. Her sisters and cousins would never color in their favorite coloring books with her, go on bike rides together, play dolls or dress-up with her. Along with other family members, we would never celebrate the usual "firsts" with Jaimee. Rather, she would teach us about things like simple joys and unconditional love. Jaimee's handicap would serve as a mirror to our hidden motives, shining the spotlight on our selfish attitudes, desires and petty concerns. We would, over time, learn the meaning of intrinsic worth and dignity.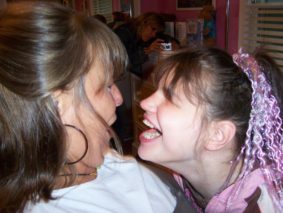 (Jaimee and her Mom, Kathie)
You might conclude that caring for Jaimee was something burdensome because of the hard work it required. It was physically taxing on her Mom and others—but because of Jaimee's God-given personality, she passed on joy to everyone who cared for her. Even when Jaimee didn't feel good, which unfortunaltey was often, her gentle spirit told you that you were special. All that was needed was something to make a funny sound and she would come to life with a smile, if not full-blown gut-laughter.
FEARFULLY AND WONDERFULLY MADE
You see Jaimee was not just a diagnosis or some awful mistake. Nor is any other person with a handicap. She was fearfully made. Her substance was NEVER hidden from God, while she was being made in secret. God's thoughts about her have and still are nothing but precious! (Psalm 139:14-17)
Jaimee, along with every other human being, has been created in the image and likeness of God. (Genesis 1:27) In fact He created ALL things, but especially human beings, to bring Him glory. (Revelation 4:11) Many people gauge the value of another person by their measurable accomplishments, or sometimes selfishly—how they benefit from them—or how they make them feel.
Jesus tells us in Luke 16:15 that "what selfish man values—God says is detestable." It's important to find out what God says about how to treat people. How to "not merely look out for our own interests, but also the interests of others" (Phil. 2:4). Treating other people with dignity means treating them the way we want to be treated. Jesus tells us the greatest commandment is to love Him with all our heart, soul, mind, and strength. The second is to love our neighbor as ourselves. (Matthew 22:37-39) Because we were created in the image of God, what's important to Him should be important to us. The greatest thing we could ever do is to love like Him. That means treating each person we meet with dignity.
GOD'S WORKMANSHIP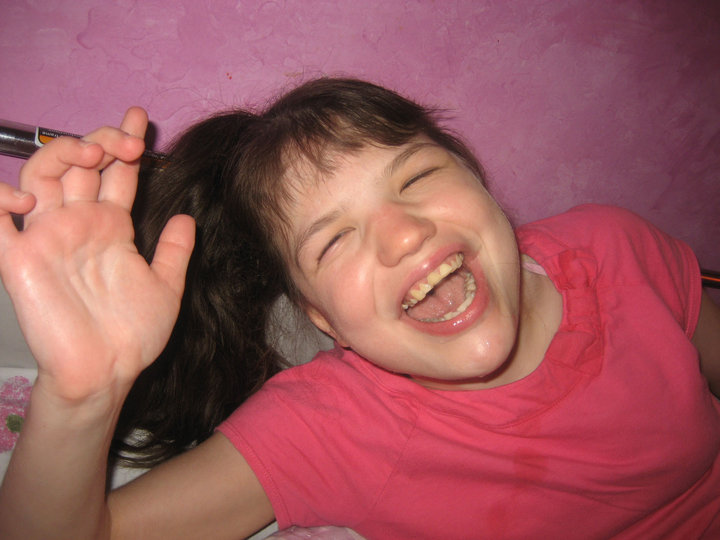 Jaimee was God's workmanship created for good works which He prepared for her ahead of time. (Ephesians 2:10) The good works Jaimee did simply spilled from her inner being and brought joy and love to others. She taught many of us that joy does not depend on our circumstances but comes from within. Her circumstances were often physically uncomfortable and yet she experienced and expressed pure and simple joy. (Joanna, Jaimee, and Jenna)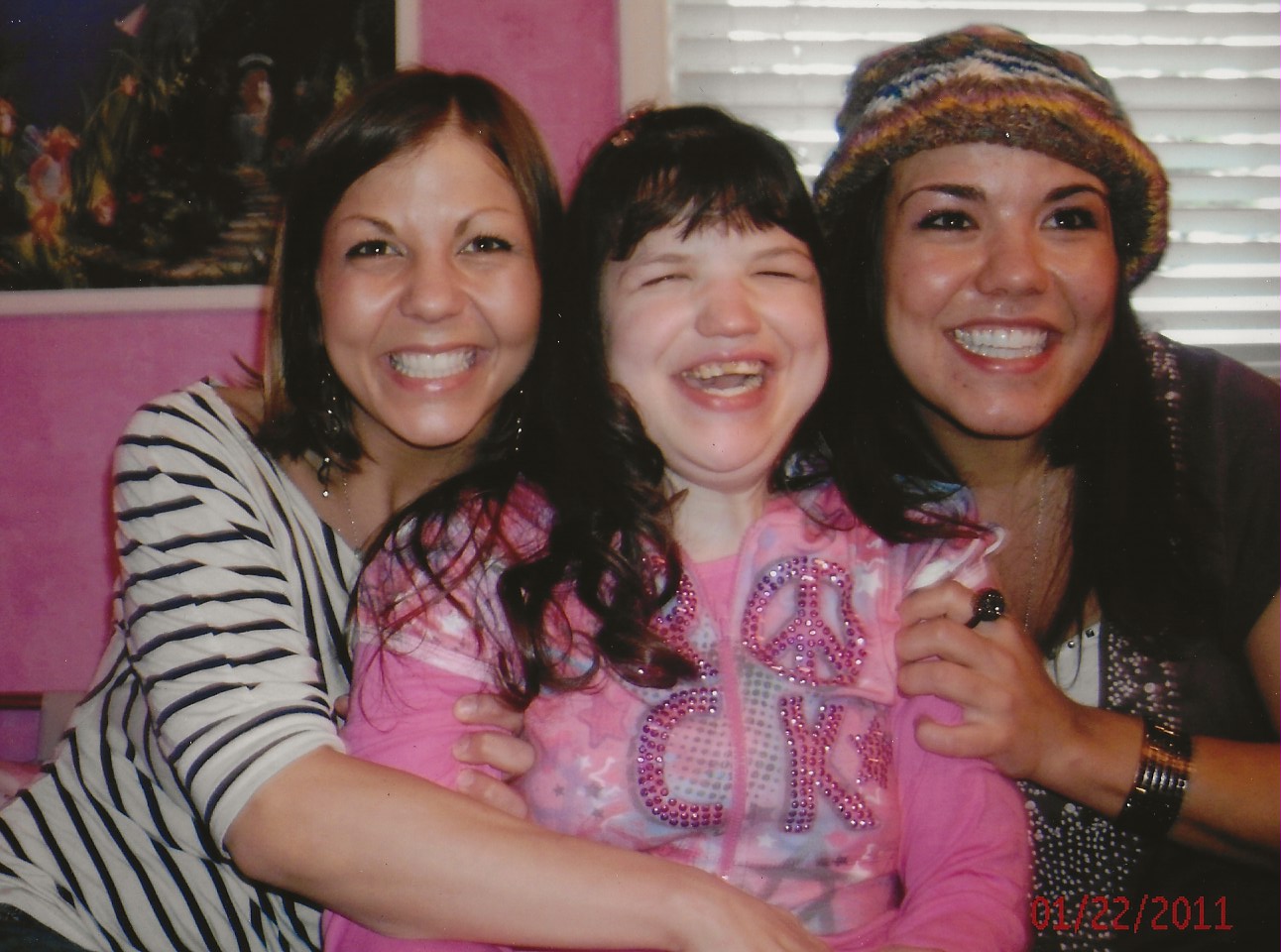 What many of us may have considered her handicap, was probably a great asset. She was not limited by feelings of insecurity, greed, or comparison, as we can so often be. She was simply who she was, and because of that brought glory to God as love and joy flowed out of her inmost being.
Her life expectancy was only about five years, but because of the dedicated and nurturing care of her mother, Kathie my sister, and her sisters, Joanna and Jenna, Jaimee lived to be a week short of thirty years old. Jaimee was a fortunate and blessed recipient of dignity. She was greatly loved and her spirit thrived, leaving behind a legacy of joy that lives on and will follow her into eternity.
(Joe , Debbie & Jaimee on her 25th BD)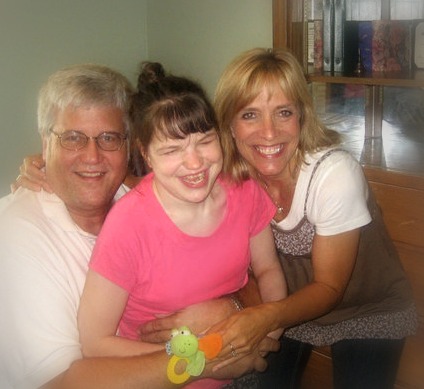 Below is a song I wrote about Jaimee and the way she touched my life. Her "handicap" was a tool in her maker's hands to touch the lives of countless people. He used her as one of the tools to bring me out of a life that could have continued in a self-serving lifestyle but was changed into a life that endeavors to care for other's needs above mine. Jaimee taught me to lighten up and laugh, and to enjoy the simple joys God brings each day. Jaimee's life taught me about the things God cares about. God used Jaimee to bring me to a deeper kind of love.
Jaimee's Song (Deeper Kind of Love)
Each time you laugh, I can see an angel smile
The joy you bring makes me want to go the extra mile
The twinkle in your eyes, you're never asking "why?"
calls me to a deeper kind of Love.
And when you cry, I often stop and ask the question, "why?"
But then the love you bring invites this broken heart to sing
As you embrace the simple joys, God dries my tear stained eyes
And calls me to a deeper kind of Love.
For now I've made a choice that I will be a voice
until that glorious day unfolds and every story's told
of the joy you gave and the roads you paved,
bringing others to the heart of God! ~Debbie Mayer
After reading this, please stop and ask yourself how your life is bringing glory to God, and others to His heart. Will you remember that every person is created in the image and likeness of God with a unique quality of Heaven? Just as you have value and worth, will you also treat each one you meet with respect and dignity? Jesus said in Matthew 25:40: "Whatever you do for one of the least of these brothers and sisters of mine—you do for me."
I believe Jaimee is known in Heaven for the joy she brought to so many here. What kind of stories will be told about you in Heaven?
Remember that you are eternally loved. There was no beginning and there will be no end to God's love for you!
I'd love to hear from you, so please scroll down and leave me a comment.